Sorrel & White Tovero Driving Team

Offering for sale, a very fancy matched pair, a Foxtrotter gaited driving team.
Gaited teams this matched with such wild markings are rare and hard to find.
Both are Blue Papered Foxtrotters from champion bloodlines.
Both are triple registered with MFTHBA, SSHBEA & PSHR.

Click on the small photos to see the larger versions.










Photos above taken at Mel Towel's of Jonesboro, Arkansas.
The photos show Mr. Towel driving his wagon with our fillies.
Thank you Mr. Towel for training these fillies to drive with such gentle patience and kindness.

Very nice sorrel & white tovero 2 year old fillies!
Beautiful fillies ~ Nice heads ~ Good conformations ~ Good Dispositions ~ Excellent gaits!
Imagine them pulling a fancy carriage or buggy in polished harness!
Both fillies load and trailer easily. They are well broke for driving
and both stand quietly for harnessing.
Drive them now and teach them to ride when they are old enough to ride.
As driving or riding mares, they will give you a smooth natural foxtrot
and they will be the matched pair that everyone notices!
Tovero's are strong color producers.
As broodmares, these fillies will give you a wide variety of flashy colors.

Priced to sell at $7000. for the pair.





For more information on each filly
and to see each filly's pedigree click their individual pictures below: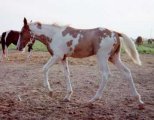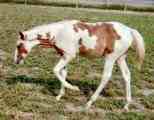 Back to Foals & Yearlings page



Serious inquiries only, please!

General terms for selling foals & yearlings

25% down is required to hold any horse for sale.
All reasonable offers are considered, and financing is available upon approval.
Delivery may be possible within 250 miles of our home, (for a reasonable fee).
You might also find a hauler on this page: Catch A Ride

Chuck & Sherry Hartley
Phone: 573-738-2076 Email: foxtrotters@horsemail.com
Located in Southeast Missouri


We accept credit card payments through PayPal.







Home ~ Index Page
Foals | Stallions | Horses for Sale | Homozygous | Horse Health | About Us | Foxtrotter Training
Games | Shop | WebRings | Banners | Links | Page Building Help | Free E-Cards | Hoaxes
Animated Gifs | Clipart | Backgrounds | Our Awards | Apply for Award | Winning Sites | Search
Pedigree Generator | Our Location & Contact Information | Translate | Site Map | Suggest this Site
Email: foxtrotters@horsemail.com | Privacy | Disclaimer | Copyright ©