Simply Sensation
We call him "Sensa" (pronounced Sin Say)
Triple registered with MFTHBA, SSHBEA & PSHR

Please click the pictures below to see the larger versions.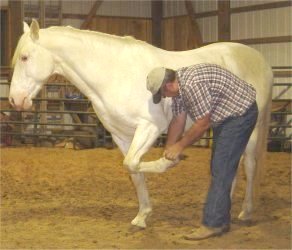 Born June 20, 1999 - 15'1 hands

~ SOLD ~
to Stephanie Melin & Family of Valley Center, California


Simply Sensation is a solid white, maximum expressed, sabino overo with dark brown eyes. He is a good quality stallion with an excellent disposition, great natural gaits and champion breeding. He has been trained with Pat Parelli resistance free methods. He is a beautiful stout and stocky horse, a fun horse to ride with a natural foxtrot and great gaits.

He is triple registered with the Missouri Foxtrotter, Spotted Saddle Horse & Pleasure Saddle Horse associations.



Sensa's Pedigree
You can click on some of the names in pedigree
for more info and/or photos of that horse:

Our stallions no longer stand at public stud.

Red Rawhide's sire was 1966 World Grand Champion Golden Rawhide.





Home ~ Index Page
Foals | Stallions | Horses for Sale | Homozygous | Horse Health | About Us | Foxtrotter Training
Games | Shop | WebRings | Banners | Links | Page Building Help | Free E-Cards | Hoaxes
Animated Gifs | Clipart | Backgrounds | Our Awards | Apply for Award | Winning Sites | Search
Pedigree Generator | Our Location & Contact Information | Translate | Site Map | Suggest this Site
Email: foxtrotters@horsemail.com | Privacy | Disclaimer | Copyright ©