CONGRATULATIONS!
You are a winner! Thank-you for applying for our "Pleasure Gait Farms Award"!
Your site qualifies for any award on this page.

Please right click on the award of your choice below, and save, then upload to your own server. Thanks.

Important:
A link back to Pleasure Gait Farms home page ( http://foxtrotters.tripod.com ) is required in order to be listed on our "Award Winning Sites" page. After you have added your new award to your page, please send us an email with the URL. If we do not receive the email; we will assume you do not wish to be added to our winner's page. Please see example below of how to link your award back to us.
Please choose the award or awards you like best.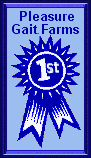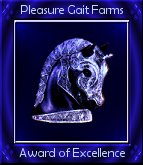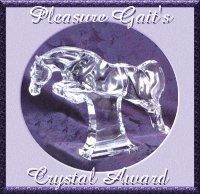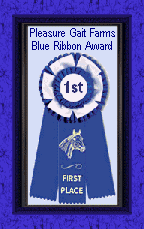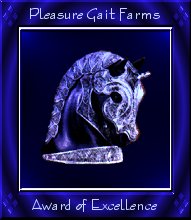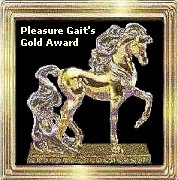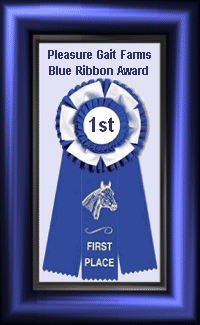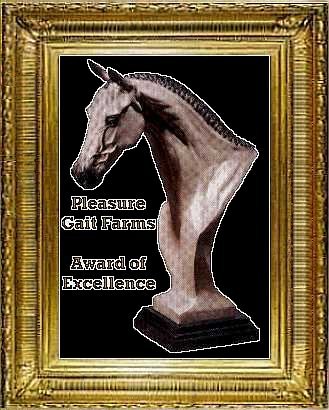 How to link your award to us.

Thank-you and good luck with your site from all the critters at Pleasure Gait Farms!

If you link back to us, and would like for us to add your site to our "Award Winning Websites" page, then please send us an email with the URL you want us to use.
Please visit the wonderful sites listed on our Award Winning Websites page.


Thanks again!



Home ~ Index Page
Foals | Stallions | Horses for Sale | Homozygous | Horse Health | About Us | Foxtrotter Training
Games | Shop | WebRings | Banners | Links | Page Building Help | Free E-Cards | Hoaxes
Animated Gifs | Clipart | Backgrounds | Our Awards | Apply for Award | Winning Sites | Search
Pedigree Generator | Our Location & Contact Information | Translate | Site Map | Suggest this Site
Email: foxtrotters@horsemail.com | Privacy | Disclaimer | Copyright ©