Bay & White Tobiano Filly For Sale
sire: Pure Luck
dam: Fancy's Blue Legs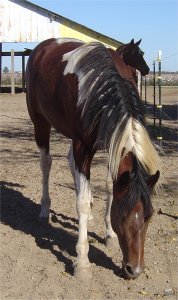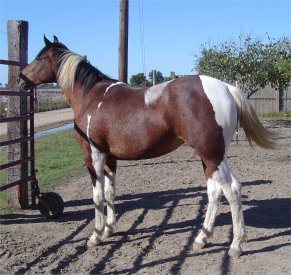 Photos above taken October 1, 2006.



For More Information Contact:
Jeff & Becky Brown in Senath, Missouri.
NO EMAIL, please phone: 573-738-3111
Price $1500.

Born January 31, 2005.
A real sweetheart with an excellent disposition!
VERY gentle, LOVES people, halter broke, leads, loads, stands for the farrier.
She is registered in the MFTHBA, SSHBEA and the PSHR.



Her Pedigree
Back to Foxtrotters For Sale page



Privacy Policy Disclaimer

Statements and descriptions about some of the horses for sale on this site are made by the owners of the horses. If the horse does not belong to Pleasure Gait Farms, then Pleasure Gait Farms is not responsible and makes no guarantees of any kind about the statements or descriptions of horses.





Home ~ Index Page
Foals | Stallions | Horses for Sale | Homozygous | Horse Health | About Us | Foxtrotter Training
Games | Shop | WebRings | Banners | Links | Page Building Help | Free E-Cards | Hoaxes
Animated Gifs | Clipart | Backgrounds | Our Awards | Apply for Award | Winning Sites | Search
Pedigree Generator | Our Location & Contact Information | Translate | Site Map | Suggest this Site
Email: foxtrotters@horsemail.com | Privacy | Disclaimer | Copyright ©