Foxtrotter Gelding For Sale
Champagne and White Tobiano

Offering this good tobiano registered MFTHBA gelding for sale.
Guaranteed NO BAD HABITS and 100% sound!
He has a super disposition and is extremely gentle. ANYONE can ride this horse!
He has a big lick show horse foxtrot!
He loads, clips, bathes, parks out, backs, stands still for the farrier.
Owner says, "You can write your own guarantee if you buy this horse!"
He is 4 years old and stands 15 hands.

~ SOLD! ~

Photos below taken August 20, 2003. Click on the small photos to see the larger versions.






He has a good flatwalk and foxtrot.
He is a good broke, pretty, gaited horse that moves out smoothly and easily.
The kind of horse you can ride and enjoy for many years.

Below is a copy of his registered Missouri Fox Trotting Horse pedigree.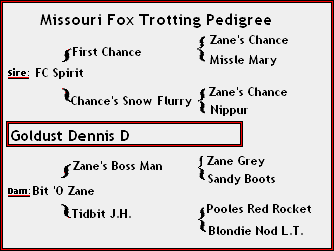 He was born on March 2, 1999.



If you are interested in this horse, please do not delay.
He will sell quickly. For more information:
Contact owner Mike Beckham in Poplar Bluff, Missouri by phone: 573-686-1806.
Tell him you saw him on the Internet ~ sorry Mike doesn't have an email address.




Home ~ Index Page
Foals | Stallions | Horses for Sale | Homozygous | Horse Health | About Us | Foxtrotter Training
Games | Shop | WebRings | Banners | Links | Page Building Help | Free E-Cards | Hoaxes
Animated Gifs | Clipart | Backgrounds | Our Awards | Apply for Award | Winning Sites | Search
Pedigree Generator | Our Location & Contact Information | Translate | Site Map | Suggest this Site
Email: foxtrotters@horsemail.com | Privacy | Disclaimer | Copyright ©