LAND FOR SALE IN MISSOURI


30 acres +/- is located in southeast MO.
This property will sell to the highest bidder at auction


on March 5th, 2013 at 4:00 PM


American Legion Building
in Kennett, MO.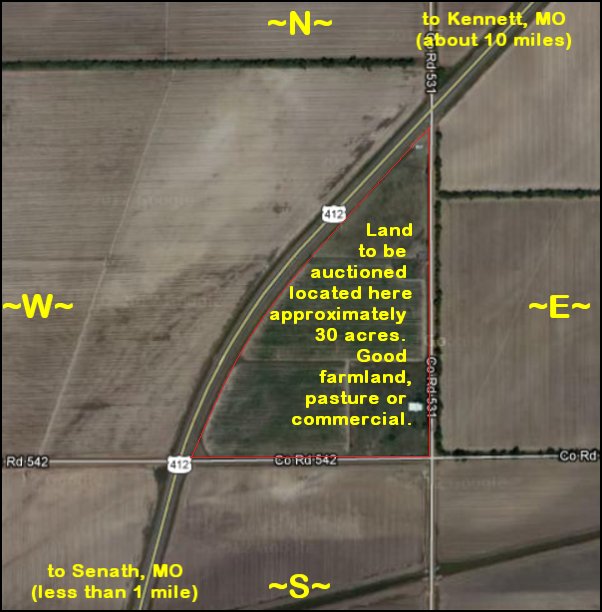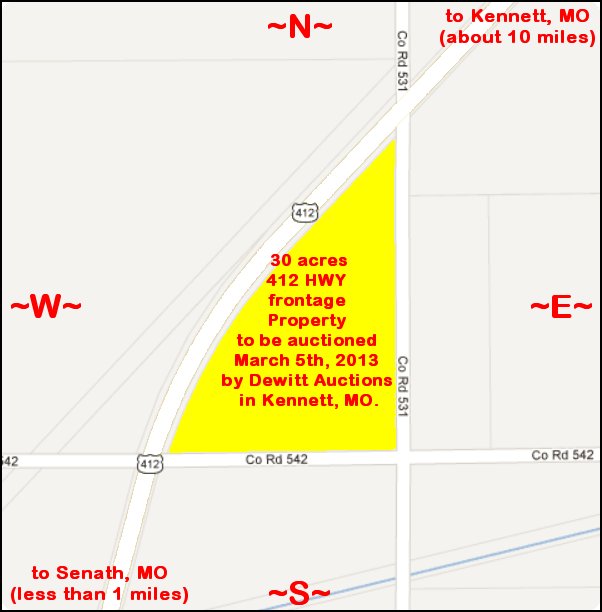 Approximately 30 acres for sale in Senath, MO, located in the southeast Missouri "Bootheel".
30 Acres +/- Located in Dunklin County Missouri
Tract 4: Approx. 30 Acres +/-
Township 18N, R8E, Section 36
This is good farmland and also has frontage on U.S. Highway 412.
This property has potential for many uses as well as farming.
It has lots of frontage on HWY 412 and is a good location for
commercial use, would be an ideal location for a truck stop.
The property was featured on the December 2012-2013 "Bootheel Area"
yellow pages phone book cover, see featured photo below.

For more information, please visit the Dewitt Auction Company website...
Click here to visit Dewitt
Click for auction Flyer in PDF format
FOR MORE INFORMATION, CONTACT:
JACK HOLIFIELD (870) 926-4173
or
SHERRY HARTLEY (573) 738-2076
Email: foxtrotters@horsemail.com

Home ~ Index Page
Foals
|
Stallions
|
Horses for Sale
|
Homozygous
|
Horse Health
|
About Us
|
Foxtrotter Training
Games
|
Shop
|
WebRings
|
Banners
|
Links
|
Page Building Help
|
Free E-Cards
|
Hoaxes
Animated Gifs
|
Clipart
|
Backgrounds
|
Our Awards
|
Apply for Award
|
Winning Sites
|
Search
Pedigree Generator
|
Our Location & Contact Information
|
Translate
|
Site Map
|
Suggest this Site
Email: foxtrotters@horsemail.com
|
Privacy
|
Disclaimer
|
Copyright