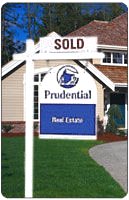 WHO WE ARE
Dating back to 1875, the Prudential Financial name, along with the "Rock" logo, has stood for strength, stability, integrity and trust. Prudential Financial has a presence worldwide with 15 million customers in more than 30 countries. The strength of "The Rock" was evident when Prudential Financial sold 110 million shares during its Initial Public Offering (IPO) in December, 2001, making it the largest IPO ever in the insurance industry at that time, and the ninth largest in the history of the New York Stock Exchange, based on gross proceeds.
Prudential Real Estate companies benefit from this recognition and are able to leverage the "Rock Solid" reputation of Prudential Financial. When home buyers and sellers see our yard signs, they link the "Rock" logo with the notion of remarkable service quality and exceptional value, backed by a name that has been trusted for more than 130 years.
NETWORK STRENGTH
The Prudential Real Estate Network is one of the largest real estate brokerage franchise networks in North America, with nearly 2,000 member offices. Its network of more than 64,000 sales professionals can satisfy your home selling and buying needs virtually anywhere in the United States, Canada and Mexico.
HIGH STANDARDS
When you consider buying or selling a home, potentially the largest financial commitment and most important investment in your life, there are no more powerful and important words than reliability and trust. Each and every Prudential Real Estate sales professional carries this responsibility and commitment with them day in and day out – it is what separates Prudential Real Estate from all other real estate organizations. When Prudential Real Estate sales professionals hang their yard sign at a listing or present their business card to a prospect, they are representing an organization that consistently strives to provide the most effective homeownership experience possible, through innovative uses of technology, marketing and key business initiatives.